Having a healthy skin barrier is important to protect your skin from the environment; Pollutants, Sun damage, UV rays etc. The key is to remember that having a healthy skin is to keep it strong and hydrated for both acne and oily prone skin. Changes in the weather or diet can also be factors that affects your skin condition. It is therefore always good to check your skin condition beforehand to see what your skin needs before applying your products.
Did you know that the moment you wake up, it is important to drink a cup of warm water as you tend to lose lots of water content when we sleep?
#Pro Tip

For each cup of coffee or tea that you drink, do remember to balance it out with the same equal amount of water.
Step 1: Cleanse + Exfoliate
An exfoliating cleanser is the first step to all skin care routines after a long day as it gets rids of all the dirt, dead skin and oil on the surface of your skin. Some exfoliating cleansers can even reduce the frequency of acne breakouts – a common issue for oily skin! It is thus important to get an exfoliator that is gentle and not too harsh on your skin.
#Pro Tip

Did you know that when you sleep, your skin sheds dead skin cells resulting in flaky skin and clogged pores. Sweating in your sleep is also one of the factors that can lead to acne breakouts. That's is the reason why we recommend that you clean your face at least twice a day – with a gentle face wash!
Recommended Product: Arena Sayonara Purifying Exfoliating Cleanser
Step 2: Wash
The next step on the skin care routine for people with acne prone and oily skin is washing. After removing dead skin cells on the upper layer of your skin, take another step to double cleanse by using a gentle face wash to remove all the excess dirt and residue on your skin.
While they are both used to clean your face, cleansers and face wash work very differently! A cleanser is mostly cream/oil based and works to dissolve and clear away excess oil, makeup and grime from your face. These oil-soluble impurities can also be removed by a face wash, but with lesser effectiveness.
A face wash on the other hand, removes deeper seated debris and also cleanse pores, thanks to its foaming action. If you're wearing a lot of makeup, or have been exposed to a lot of dust and pollution, it might be a good idea to use a cleanser first, before using a face wash.
If you have Acne skin, you'll probably think that washing your face 3, 4 or even 5 times a day can help you clear up your breakouts. Your skin produces too much oil and you like the clean, tight, dry and oil-free feeling every time you finish washing your face. If oil and dirt causes breakouts, it makes sense to remove them as frequently as you can right? STOP! That routine of yours + the face wash you're using is probably one of the reason for your skin's excessive oil production.
Most Acne Cleanser are too harsh for your skin. It strips your skin of moisture, disrupts its PH levels and it excessively stresses up your skin every time you wash your face. It's no wonder your Acne breakouts got worse. Always choose a gentle face wash that does not take away the natural oils on your face and is not overly stripping. Avoid facewash that gives you that 'squeaky clean' feel as it may do more harm than good. This would lead to irritation and cause your skin to produce more oil.
#Pro Tip

Cleanse your skin thoroughly in gentle circular motion for 2mins so that the ingredients in the face wash can properly work its magic on to your skin before you rinse it off.
Our recommendation: Use a gentle foaming face wash in the morning and as soon as you get home from work. But if you've braved heavy traffic & pollution on your way home, consider using a cleanser first and then a facewash.
Recommended Product: Arena Purifying Wash
Step 3: Toner
A toner balances your skin's natural PH levels after cleansing – which shifts the skin naturally acidic PH level to be more alkaline. Balancing your skin with a toner is the first layer of hydration as it has the lightest consistency; it only takes a few seconds for it to be totally absorbed into your skin. By toning, it helps to plump up the skin cells and gives you that hydration boost before using serums and moisturisers.
Toners also help remove whatever makeup, dirt, and oil that's left after cleansing. Look for toners that contains moisturising, anti-inflammatory, antioxidant, or exfoliating properties to amp up this routine!
#Pro Tip

Toners are designed to increase the water content in your face. Keeping your face hydrated does not only apply to dry skin but it applies to all skin types as each layer of our skin needs water to function.
Recommended Product: Arena Sayonara Purifying Toner
Step 4: Ampoules/ Essence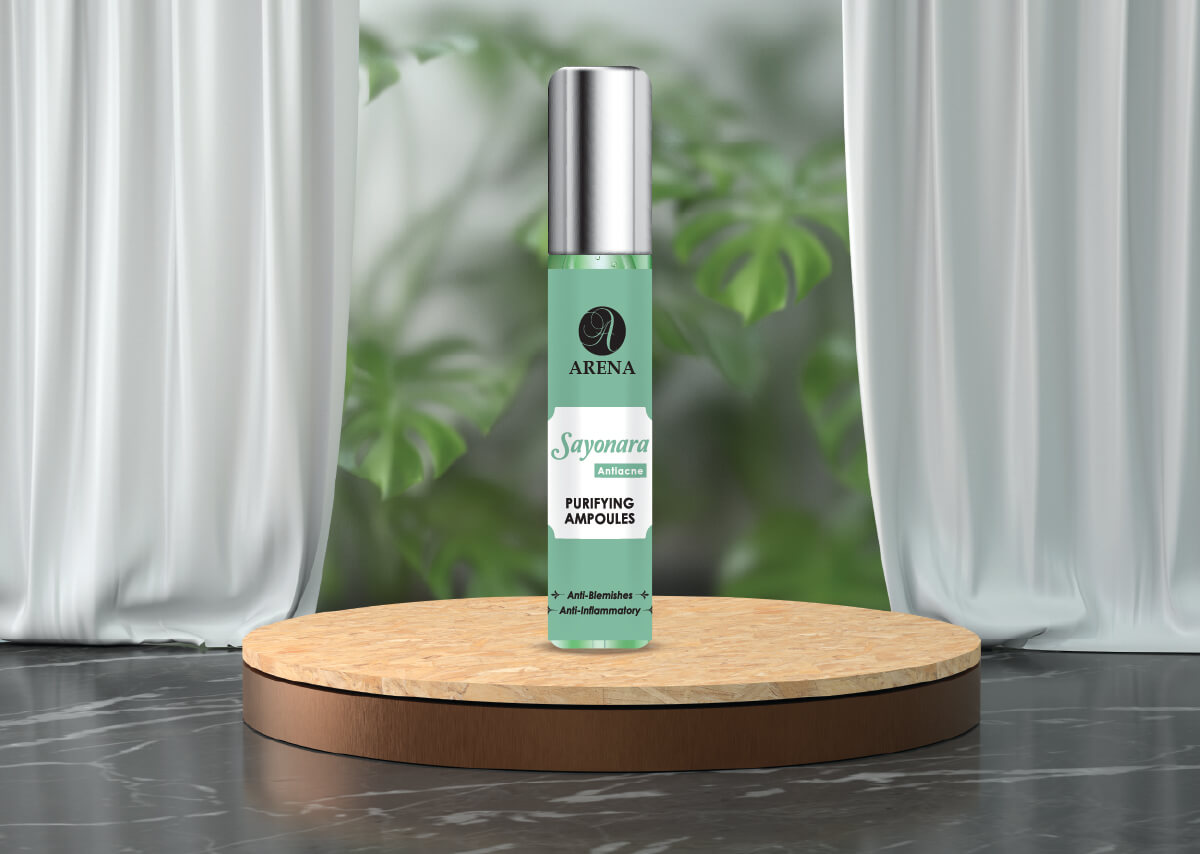 The use of Ampoules / Essences has always been a hot topic of discussion. Some people feel that it is not necessary while some feel that it's the most essential part in their skin care routine. For us, the use of an Ampoule is imperative in any skin care routine!
An Ampoule is a supercharged liquid that contains higher concentrations of active ingredients meant to treat a certain skin condition – be it acne skin or dry skin. Think of it as a power booster for your skincare routine!
For acne prone and oily skin, it is important to find an ampoule / essence that not only helps accelerates the renewal of your skin cells, but also soothes redness, disinfect skin, inhibits melanin production and kill acne causing bacteria – to lighten acne marks and treat+prevent acne.
#Pro Tip

Commonly known as "miracle water" an Ampoule is an all in one product that is integral in most Korean and Japanese skin care routine. Ampoules/ Essences preps the skin to absorb serums and moisturisers more effectively too!
Recommended Product: Arena Sayonara Purifying Ampoule
Step 5: Serum
When choosing a serum it's important to look at the ingredients and the concentration of it. For acne prone and oily skin it is essential to find a serum that reduces imperfection and alleviates redness at the same time while calming the skin. Do take note however that not all serums have moisturising properties and it is good to get one that has that function too.
#Pro Tip

Did you know that for most serums, it would take approximately 2-4 weeks to see a real difference?
Recommended Product: Arena Purifying Serum
Step 6: Eye Cream
A little goes a long way! Just a small dot underneath your eye is more than sufficient to keep your eyes hydrated and keep your dark circles at bay. Applying too much eye cream may result in milia seeds. Less is more!
#Pro Tip

Your undereye is the most sensitive part of your face. Hence, it is important to be as delicate as possible and use your ring finger to apply your cream.
Recommended Product: Eye contour gold
Step 7: Moisturiser
Having a moisturiser forms a layer around your skin to 'trap' all of your products to reduce the risk of evaporation throughout the day. For acne prone and oily skin, it is important to find a moisturiser that is not too thick and sticky in consistency that calms and soothes your irritated skin at the same time. A gel based formula would be more suitable for acne prone and oily skin.
Your skin tends to get dry throughout the day hence hydration is key, regardless of skin type. Contrary to popular beliefs, having a moisturised skin actually reduces sebum/oil production of the skin!
Choose a light moisturiser that does not clog up your pores!
#Pro Tip

When putting on your moisturiser, give yourself a facial massage! It drains your lymphatic system and depuffs your face at the same time!
Recommended Product: Arena Sayonara Cream
Step 8: Spot Treatment (As needed)
Spot Treatment is a live saver when you have a pesky pimple that just can't seem to go away or an full blown acne breakout. It is not a preventive product and should only be applied on the active acne itself. It works by using active ingredients like Sulphur and Allantoin to clear and prevent future acne from popping up! It can also help to reduce redness, pain and swelling due to its anti-inflammatory properties.
It is important to choose an Spot Treatment that works quickly and causes minimal peeling due to dryness! Leaving any dark spots or acne marks after is also a no no!
#Pro Tip

Spot treatment are best used at night! Dap a little of these powerhouses on an active acne and watch it shrink overnight!
Recommended Product: Arena AP Lotion
Step 9: Sunscreen
Sunscreen is essential to all skincare routines – regardless of skin types. It's especially true when you are living in a hot and sunny climate like Singapore! Always find a consistency that works for acne prone and oily prone skin, the best formulation is something that is non greasy and does not leave a white cast.
Sunscreen works to protect your skin against sun damage and UV Rays, which causes dark spots, aged skin and wrinkles – even skin cancer!
The formulation that you choose should not clog your pores also which can further aggravate your acne.
#Pro Tip

Did you know that you need a good sunscreen to protect your skin from harmful rays from the sun so that hyperpigmentation, freckles and acne marks will not take longer to fade. Psst UV light attacks your skin collagen too.
Recommended Product: Arena Foundation Mousse 35
The basic essentials for acne prone and oily skin is to always cleanse, tone, moisturise and sunscreen. Anything more would definitely speed up the process for a clearer and beautiful skin. After all, who does not want to have an acne free skin!
Stay beautiful everyone!