100 Mins V-Shape Face and Eye Lifting Treatment
Lift, firms and achieve the natural V Shape jawline of your dreams! Combining the latest RF Frequency technology with an effective Face Lifting Massage, you can now easily obtain the perfect V Shape face painlessly, naturally and without going under the knife!
V SHAPE FACE LIFTING
EFFECTIVE

MULTI-STEP TREATMENT

FOR THE PERFECT

V SHAPE FACE
Effectively, Painlessly and Easily obtain your V Shape Face, all while being pampered by our professionally trained beauticians! Our Multi-Step V Shape Face Lifting Treatment is specially formulated to:
TARGETTING THE INSIDE AND OUT
VISIBLE RESULTS

AFTER 1 TREATMENT
ENHANCED DUAL EFFECTS
Combining the latest RF Frequency Machine with our professional Face Lifting Massage equates to double the effectiveness!
FIRMS THE SKIN
Firms, Tightens and Lifts the skin! Say bye-bye to double chins, saggy skin and hello to slimmer cheeks and a more refined jawline!
REDUCES WRINKLES
The RF Machine's 2-in-1 system combines stable multi polar frequency with vacuum suction to iron out stubborn wrinkles and tighten the skin!
REMOVES FAT TISSUE
Multi-Polar radio frequency technology combines with heat penerates into the deep fatty layer of the skin and breaks down fat tissue.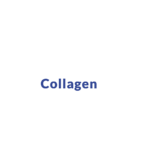 REGENERATES COLLAGEN
Promotes microcirculation, lymphatic drainage, collagen production and tightens collagen fibers, resulting in a healthier, bouncier skin
PAINLESS AND NON-INVASIVE
Safe, relaxing and painless procedure that easily gives you your desired jawline without undergoing surgery.
TECHNOLOGY IN MOTION
BREAKING DOWN

OF FAT TISSUES WITH

RADIO FREQUENCY
We use the latest Magic Lift Machine which combines Radio Frequency with Thermal Energy to break down localized fats and cellulites. It liquefies and accelerates the natural metabolism of fat tissues, for long lasting results!
IMAGE:

Rapid Breakdown of Adipose (Fat) Tissues
HIGHLY RAVED AND RECOMMENDED
REAL REVIEWS,

REAL CUSTOMERS
Felt that their introductory was detailed. Their staffs were very polite and explained the service to me well.
Friendly, professional, beauticians and masseurs👍👍👍 Products reasonable and easy location.
Overall services is very good. No hard sell too
Very good service, product and friendly staff @waterway point outlet
Highly recommended at bukit panjang plaza coslab as the beautician gave advice on the area that i have to take care of.
It's really good experience…feeling relax …specially not pushing for packag👍🏻 I m very happy 😊
Yew Tee Point outlet: Good service, friendly staffs and cozy environment
Felt that their introductory was detailed. Their staffs were very polite and explained the service to me well.
Our Results Speaks For Itself
MULTI-STEP TREATMENT
12-STEP

V SHAPE FACE LIFTING TREATMENT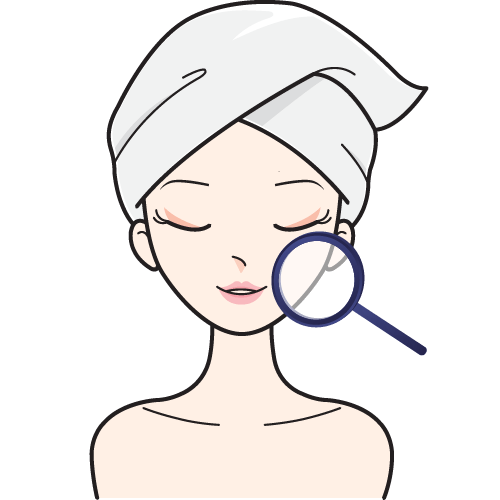 1. Consultation + Analysis
We perform visual and in-depth analysis to further understand your unique skin.
2. Cleanse
Milk cleanser removes oil based makeup, dirt, and impurities.
3. Wash
The foaming action of our bubble wash deep cleanses the pores.
4. Diamond Peel
Removes dead skin cells, evens out your skin tone and smoothens wrinkles.
5. Steam
Boosts moisture, softens blackheads, opens up the pores and and prepares for skin for extraction.
6. Extraction
Our signature extraction thoroughly removes blackheads, whiteheads and congestions in the pores.
7. Eyebrow Shaping
(Optional)
Cleans up excess hair strays around the eyebrows to match your radiant skin!
8. Magic Lift Machine

(Eye, Face, Neck)
Smoothens wrinkles, tightens the skin, and breaks down fats!
9. Lifting Massage
Lifts, Firms and Tones the skin with our professional face lifting massage!
10. Mega Lift Mask

(Eye, Face, Neck)
Forms and re-contours the face, tightens the skin and smoothens wrinkles.
11. Shoulder/ Scalp Massage
Relieves tension and relax aching muscles with our signature massages! *Shoulder massage for females only
12. Final Touches
The final touches - toner, moisturizer and sunblock to protect your skin!
Redemption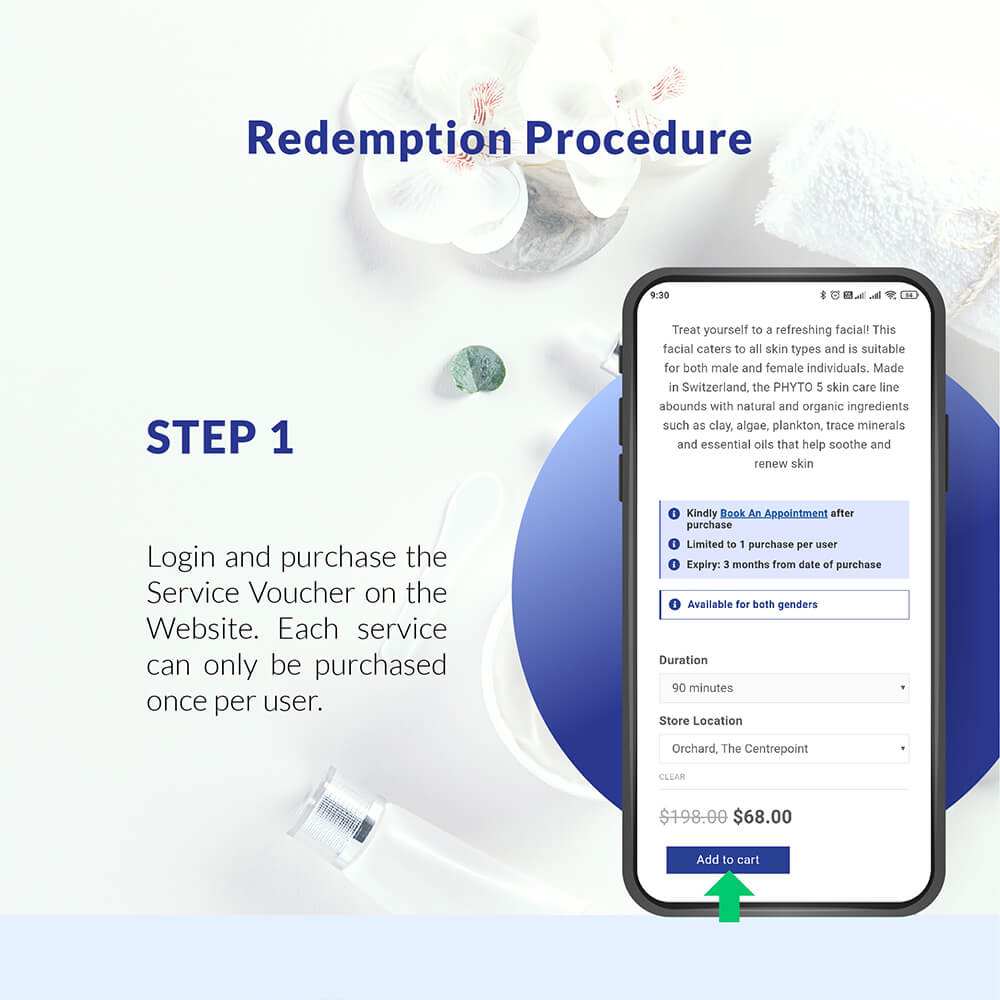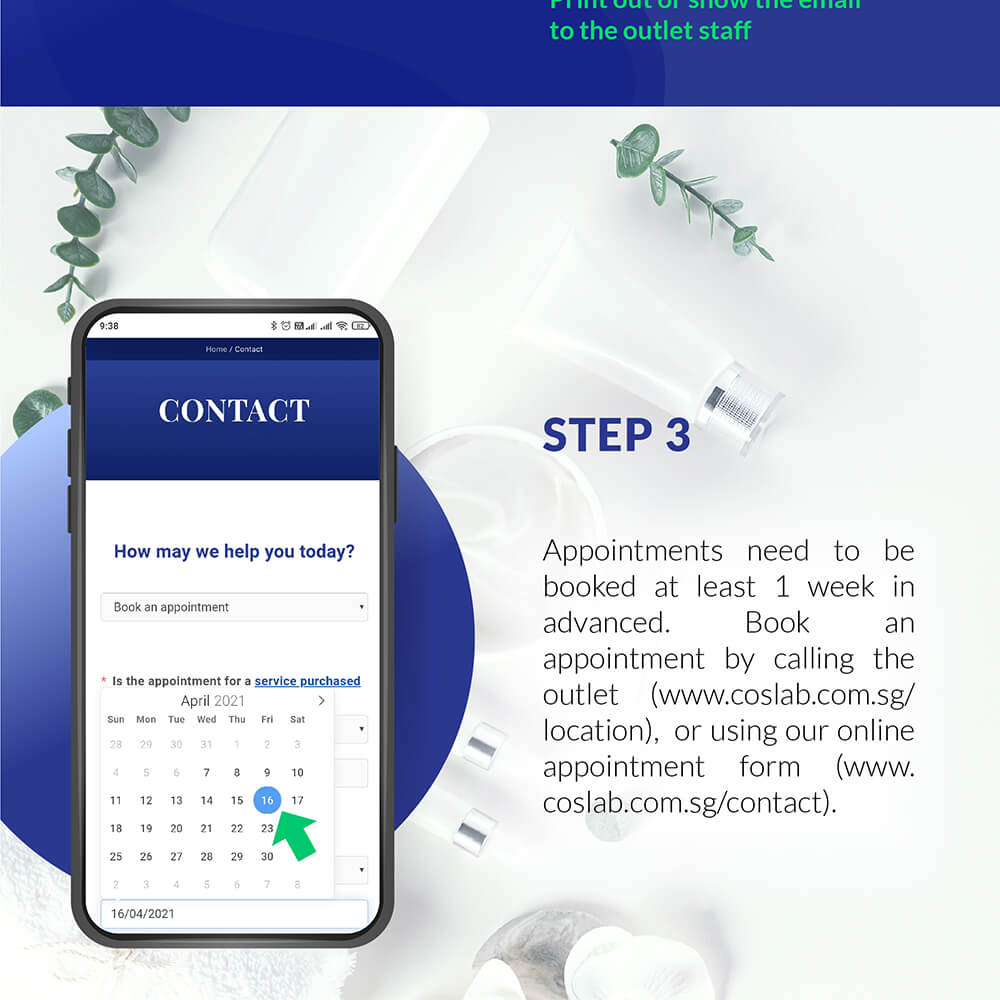 | | |
| --- | --- |
| Store Location | Bukit Panjang Plaza, Northpoint City (North Wing), Orchard, The Centrepoint, Waterway Point, Yew Tee Point |
Terms & Conditions
Strictly limited to 1 purchase per NRIC / valid Work Pass.
Kindly Present your NRIC / valid Work Pass in the outlet for verification.
This promotional price is only valid for customers purchasing this service for the first time on our Online Store. A top up to the usual price is required for subsequent purchases. The top up must be made at the outlet before commencement of the service.
Voucher Expires 3 months from date of purchase.
Suitable for both Male and Female customers.
Prior appointment needs to be made a week in advanced, either by Call/Whatsapp to the outlet or by filling up our Online Booking Form.
Strictly no refund of service voucher(s).
This voucher is not redeemable for cash.
Not valid during public holiday.
Not valid with other promotion or discount.
Walk-ins will not be allowed.
All payments are to be paid in full before commencing the service.
Arrive at least 10 minutes earlier for your appointment.
25 Feb 2022: As a temporary precaution, kindly inform us to reschedule your appointment:
1) if you are feeling unwell
2) if you are a close contact of a COVID-19 case in the past 7 days
3) if you have contracted COVID-19 Do take note that the session can only take place from the 15th day onwards of contracting COVID-19