105 Mins 5 Element Gua Sha Facial
5 Element Gua sha Facial is a facial service that caters to all skin types and skin concerns. Suitable for both male and females, It follows the formulation principles of TCM, divided into the 5 aspects of vital energy; Wood, Fire, Earth, Metal and Water. The facial combines modern facial techniques with traditional chinese TCM guasha techniques to soothe, hydrate and renew the skin.
GET YOUR GLOW BACK –
PERSONALISED

MULTI-STEP TREATMENT

FOR

HEALTHY, GLOWY SKIN
Get your skin glowing in 105 minutes! The 5 Element Gua sha Facial is a personalized facial gua sha treatment tailored to your skin type and concern. It uses a combination of modern facial techniques and ancient TCM Guasha techniques to calm, hydrate and revitalize your skin.
TRADITION MEETS INNOVATION –
REDISCOVER THE POWER

OF YOUR SKIN
Combining traditional chinese TCM techniques and modern innovations on skincare, the 5 element gua sha facial treatment aims to restore the natural balance of the skin, removing impurities and restoring hydration. Facial guasha helps relaxes facial muscles and boosts lymphatic drainage, reducing puffiness and face tension. Results are visible from the first session and only improve with each consecutive visit.
STIMULATE YOUR SKIN TO A RENEWED LOOK –
VISIBLE RESULTS

AFTER 1 TREATMENT
FIRMS & LIFTS THE SKIN
Firms, Tightens and Lifts the skin! Enhance your skin's natural beauty with traditional guasha and modern facial techniques that even helps reduce fine lines and wrinkles.
SMOOTH AND SOOTHE SKIN
Our signature extraction thoroughly and safely removes congestions from deep within the pores, while keeping everything clean and sterile. Bye bye blackheads, whiteheads and say hello to soft, smooth skin!
BRIGHTENS SKIN TONE
Guasha is used to maximise the absorption and efficacy of our highly concentrated Vitamin A.C.E Cream, leading to instantly glowy and brighter skin!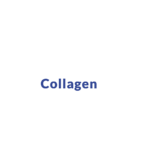 REGENERATES & DETOXES
Shown to promote microcirculation, speed up collagen production and remove toxins from the skin, leading to tighter, brighter, and bouncy skin!
REBALANCES THE SKIN
Packed with vitamins and minerals that helps repair damaged skin, replenish moisture, soothe irritation, reduce pore size, and rebalance your skin.
PESONALISED TO YOU
Every skin is unique! Our expert beauticians analyses your skin and recommends the best ingredients and routine for you, according to what your skin needs!
PERSONALISED FOR YOUR SKIN –
YOUR SKIN,

YOUR WAY
Following the principles of Traditional Chinese Medicine, our skincare blends are divided into 5 elements: Metal, Wood, Water, Fire and Earth. In TCM, all skin conditions are attributable to an imbalance (or lack of) one of more of the 5 elements that constitutes to vital energy. Our expert beauticians will analyze your skin and recommend the best ingredients and routine for you, based on what your skin needs.
Plumps, brightens and smoothes dry, congested skin
Clears and brightens oily skin and pigmentation.
Tones, firms and rehydrates dry, mature skin
Soothes red, irritated and sensitive skin
Purifies, detoxes and rebalances skin
HIGHLY RAVED AND RECOMMENDED –
REAL REVIEWS FROM

LOYAL CUSTOMERS
Felt that their introductory was detailed. Their staffs were very polite and explained the service to me well.
Friendly, professional, beauticians and masseurs👍👍👍 Products reasonable and easy location.
Overall services is very good. No hard sell too
Very good service, product and friendly staff @waterway point outlet
Highly recommended at bukit panjang plaza coslab as the beautician gave advice on the area that i have to take care of.
It's really good experience…feeling relax …specially not pushing for packag👍🏻 I m very happy 😊
Yew Tee Point outlet: Good service, friendly staffs and cozy environment
Felt that their introductory was detailed. Their staffs were very polite and explained the service to me well.
Our Results Speaks For Itself
MULTI-STEP TREATMENT –
15-STEP

5 ELEMENT GUASHA FACIAL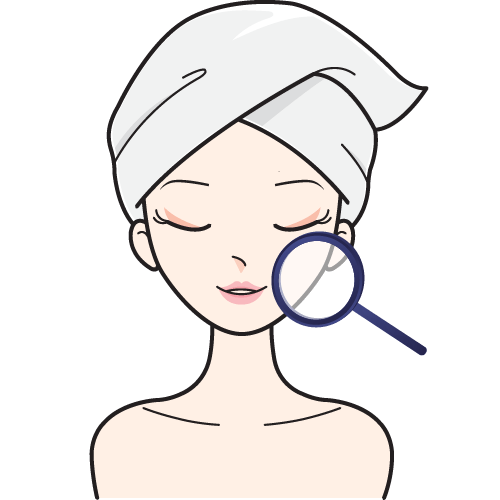 1. Consultation + Analysis
A professional consultant performs visual and in-depth analysis to further understand your unique skin.
2. Welcome Touch
Aromatherapy, combined with deep breathing and relaxation massage to relax your mind and body.
3. Cleanse
Milk cleanser removes oil based makeup, dirt, and impurities on your skin.
4. Wash
Our bubble wash creates a rich lather that deep cleanses the pores.
5. Diamante Peel (Exfoliation)
Removes dead skin cells, evens out your skin tone and smoothens wrinkles and facilitate skin renewal.
6. Steam
Boosts moisture, softens blackheads, opens up the pores and prepares your skin for extraction.
7. Extraction
Our signature extraction thoroughly removes blackheads, whiteheads and congestions in the pores.
8. Eyebrow Shaping
(Optional)
Get your eyebrows professionally shaped to match your radiant skin!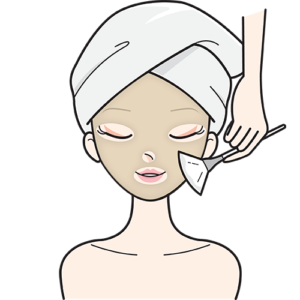 9. Algoderm Face Mask
A moisturising mask, enriched with mineral-rich algae, balances moisture, reduces redness, and purifies pores.
10. Scalp / Shoulder Massage
Relieves tension and relax aching muscles with our signature massages! *Shoulder massage for females only
11. Guasha with Vitamin A.C.E Cream
Lifts, sculpts and tightens skin. Brightens skin and reduces fine lines. Increases circulation and detoxes for glowing skin.
12. Lifting Massage
Lifts, Firms and Tones the skin with our professional face lifting massage!
13. Customised 5 Element Mask
A custom mask that is personalised to you based on your skin needs.
14. Final Touches
The final touches - toner, moisturizer and sunblock to protect your skin!
15. Aftercare Consultation
Our expert consultants will give advices on skin care products and how best to maintain your new, glowing skin!
Redemption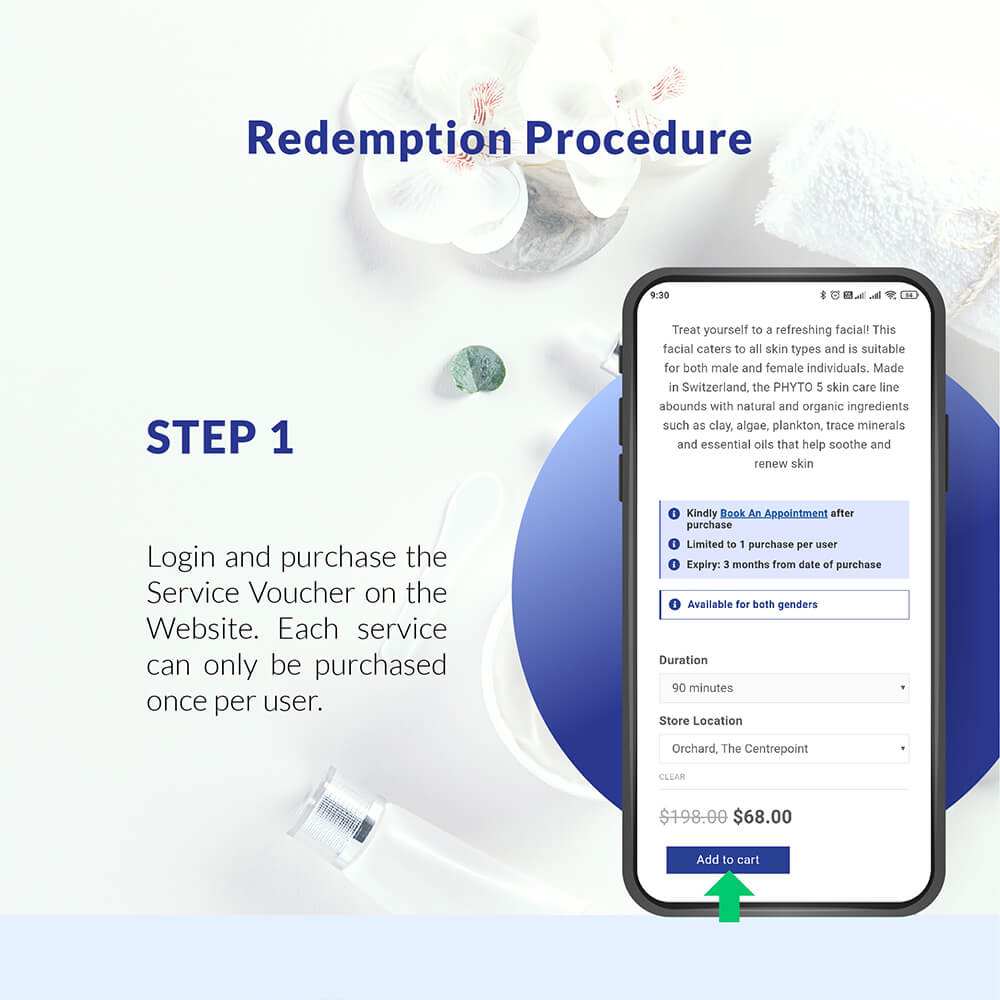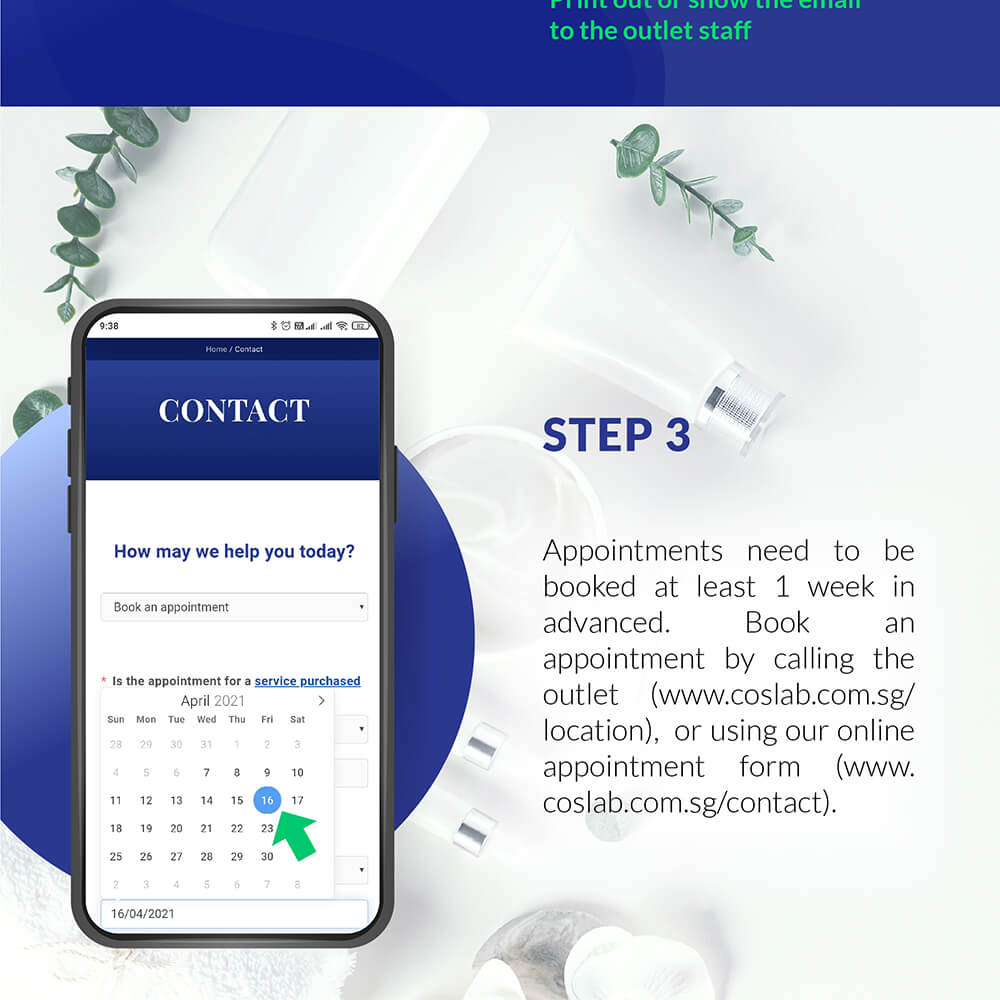 | | |
| --- | --- |
| Store Location | Bukit Panjang Plaza, Northpoint City (North Wing), Orchard, The Centrepoint, Waterway Point, Yew Tee Point |
Terms & Conditions
Strictly limited to 1 purchase per NRIC / valid Work Pass.
Kindly Present your NRIC / valid Work Pass in the outlet for verification.
This promotional price is only valid for customers purchasing this service for the first time on our Online Store. A top up to the usual price is required for subsequent purchases. The top up must be made at the outlet before commencement of the service.
Voucher Expires 3 months from date of purchase.
Suitable for both Male and Female customers.
Prior appointment needs to be made a week in advanced, either by Call/Whatsapp to the outlet or by filling up our Online Booking Form.
Strictly no refund of service voucher(s).
This voucher is not redeemable for cash.
Not valid during public holiday.
Not valid with other promotion or discount.
Walk-ins will not be allowed.
All payments are to be paid in full before commencing the service.
Arrive at least 10 minutes earlier for your appointment.
25 Feb 2022: As a temporary precaution, kindly inform us to reschedule your appointment:
1) if you are feeling unwell
2) if you are a close contact of a COVID-19 case in the past 7 days
3) if you have contracted COVID-19 Do take note that the session can only take place from the 15th day onwards of contracting COVID-19
Benefits
The 5 Element Guasha Facial Treatment caters to all skin types and is suitable for both male and female individuals. It combines modern beauty treatments, aesthetic techniques, chinese therapy technique and facial massage with massage tools for a natural facelift and beautiful skin.
Guasha is a traditional TCM technique that uses jade rollers or a Flat Jade Gua Sha tool to stroke the skin in a linear or circular motion. The gua sha tool has been used for centuries by Chinese acupuncturists and physicians to treat various ailments, including pain relief, increasing lymphatic flow, increasing blood flow, relieving tension headaches, reducing the appearance of wrinkles, increase skin elasticity, and relieving muscle tension and muscle pain. The flat jade tool is made of natural stone, which is hard enough to penetrate deep into the body, stimulating the meridian channels and increasing micro – circulation.
Traditional Guasha facial treatment techniques is used in conjunction with the beauty award winning PHYTO 5 skin care line; with its skin care products made in Switzerland and abounds with natural and organic ingredients such as clay, algae, plankton, trace minerals and essential oils that help soothe, renew, and supports a healthy skin barrier.
The PHYTO 5 skin care line uses principles from Traditional Chinese Medicine, dividing their skincare blends into five elements: Metal, Wood, Water, Fire and Earth. According to traditional Chinese medicine, all skin conditions are due to imbalances of one or more of the five elements that constitute to vital energy. We will analyze your skin and suggest the best ingredients and beauty routine based on what your skin requires.
Wood Imbalance:
Oily skin, blackheads, hyper-pigmentation
Issues of vital energy circulation
Fire imbalance:
Redness, irritated, sensitive, blotchy or allergic skin, excessive heat and perspiration
Issues of red blood (arterial) circulation
Earth imbalance:
Blemishes, toxicity, acne-prone skin, psoriasis, enlarged pores
Lymph circulation problems
Metal imbalance:
Dry skin, surface flakiness, dull and lifeless skin
Issue of blue blood or venous circulation problems such as varicose vein (spider viens)
Water imbalance:
Dehydration, lack of tone, wrinkles
Excess kidney energy causing puffiness under the eyes; or dark circles
Issue of water circulation (water retention)